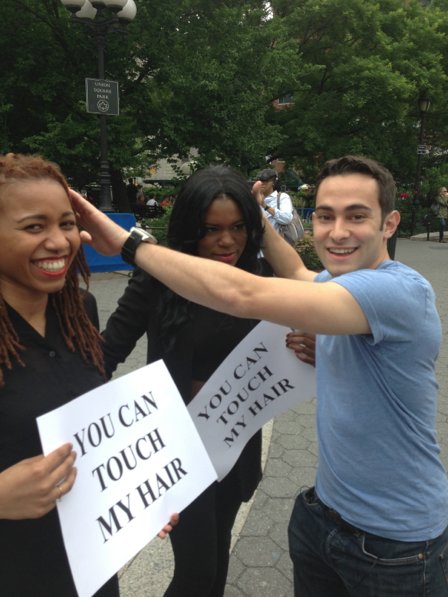 What do you think about this?  An exhibit is allowing people to touch black women's hair to see what it feels like.  So, this act that normally drives you insane and gets on your nerves to no end, is now part of an exhibit.  Hmmmmm.
They say that the exhibit is designed to explore the fascination that people have with black women's hair.  Could be interesting.   By letting strangers touch their hair, it appears that people are better able to explore the minds of those who find black hair to be both beautiful and/or fascinating. 
The latest Curly Girl Revolution inspiring African American woman to embrace their natural hair textures. The trend has also left many people curious about the make up of the various hairstyle such as- the fro, twa, dreads, braids, curls, etc. This curiosity often times lead people to ask natural women of color- "Can I Touch Your Hair?"
Antonia Opiah, founder of Un'ruly, decided to take to the New York City's streets and put the question to rest by extending an open invitation to any one passing by. She hosted an exhibition called "You Can Touch My Hair." The Un'Ruly founder's purpose for the event was to explore the fascination with black women's hair. The exhibition featured a group of three woman all sporting different hair textures and styles, and they each allowed for complete strangers to run their hands through their beautiful tresses. And the passer-bys were not met with the usual reaction of being yelled at or having their hand slapped.
Read more about people's experiences at the "You Can Touch My Hair" exhibition.
Just curious! Are you offended by Black natural hair being put on showcase?