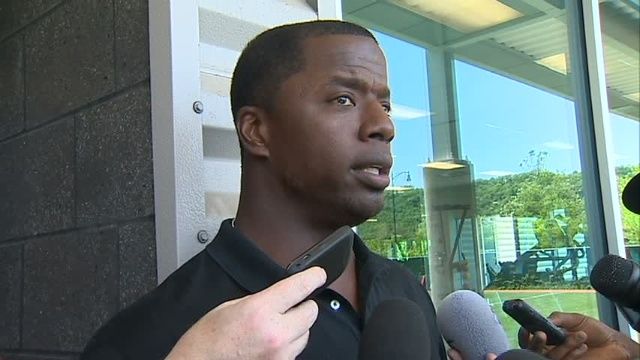 In response to reports that he locked his estranged wife, Porsha Williams, out their house, ex-NFL star Kordell Stewart has officially filed documents claiming that Porsha ABANDONED him and he feared his safety! And here I thought he claimed to be the Big Bad Wolf who had all the power and control!
While Porsha Williams (Stewart) was resting up at her mother's home, Kordell Stewart and his legal team decided filed documents "explaining" and supposedly justifying why he changed the locks on their Atlanta mansion.  HipHollywood obtained the documents first.  Here are actual exerts from the documents.

His response to when and why he changed the locks:


The locks were changed on April 2, 2013. Apparently because Porsha established a routine of leaving (the) pre-marital residence without explanation and without consideration of the detrimental effects such behavior would have on the parties' marriage , and (Kordell's) nine year old son.


He provided a copy of the message sent (via text) to informed Porsha of the lock out:
"Hey, reaching out not knowing who may or may not have keys to the house at this point, I was concerned for our safety so I changed the locks on the house. If and when you need to get in, give me a heads up so you can get in"

On why he shouldn't have to provide Porsha with any money for relocation:
"She is a celebrity, and has the income through appearances, endorsements, Bravo and other entities …(Porsha) should be capable of supporting herself but may not be able to as a result of her own financial negligence."
it is so obvious that Kordell is some what bitter about Porsha ever doing the Bravo reality show and choosing "celeb" life over housewife life that caters to him. Bossip commented on how the 'whole "well she's a celebrity now" and "she supports herself" comments are so sarcastic.'
Several pictures have surfaced featuring Porsha out and about in Atlanta, which is completely understandable. What does Kordell want her to do– sit at home dealing with his anger and resentment.  The fact that he is claiming that her actions equate to abandonment really show just how needy her is. How does some one you are divorcing abandon you– if anything he abandoned their vows and marriage.
Reportedly, he waited for her to leave one night and quickly changed the locks.  After that…he sent her a text saying he's "concerned" for his safety.  Bossip said "now we're confused.  Isn't he a former NFL superstar with the physical capabilities of protecting his home and family?  And who would Porsha be "giving" her house keys to?" I completely agree!
It seems like he feels threatened.
Here are the actual documents below: